The Diabetic Retinopathy (DR) Barometer Program is an action network of individuals and organizations working to improve the vision health outcomes of adults with diabetes through collaboration, action and knowledge exchange.  This program was first initiated with the ground-breaking 41 country DR Barometer Study. 
Vision Health Month in May represents an opportunity to join the Canadian conversation regarding the impact of vision health by showcasing key findings from the DR Barometer Study as well as sharing new DR Barometer program developments. The awareness campaign also highlights the importance of education and patient empowerment, as well as equitable access to safe and effective screening and treatment of eye conditions for everyone, but specifically those most at-risk, or neglected by other mechanisms of health promotion.
Aligned with current global trends it is anticipated that by the year 2040 individuals 65 years or older will make up over a quarter of the Canadian population. The reality of population aging poses significant challenges, one of which is the increased prevalence of non-communicable disease, specifically diabetes. 
Canada has over 2.5 million people living with diabetes, a number of which is only expected to grow in the coming years. The DR Barometer study helped to shed light on the impact of vision-related health outcomes for individuals living with diabetes as well as the barriers and factors which contribute to the screening, treatment, and management of diabetes-related vision complications. While Canadian patients reported relatively high awareness of eye complications there is still a pervasive belief that vision loss is inevitable and that there is no way to prevent it. This is exacerbated by the fact that late diagnosis was noted as one of the most significant barriers to improved vision health outcomes.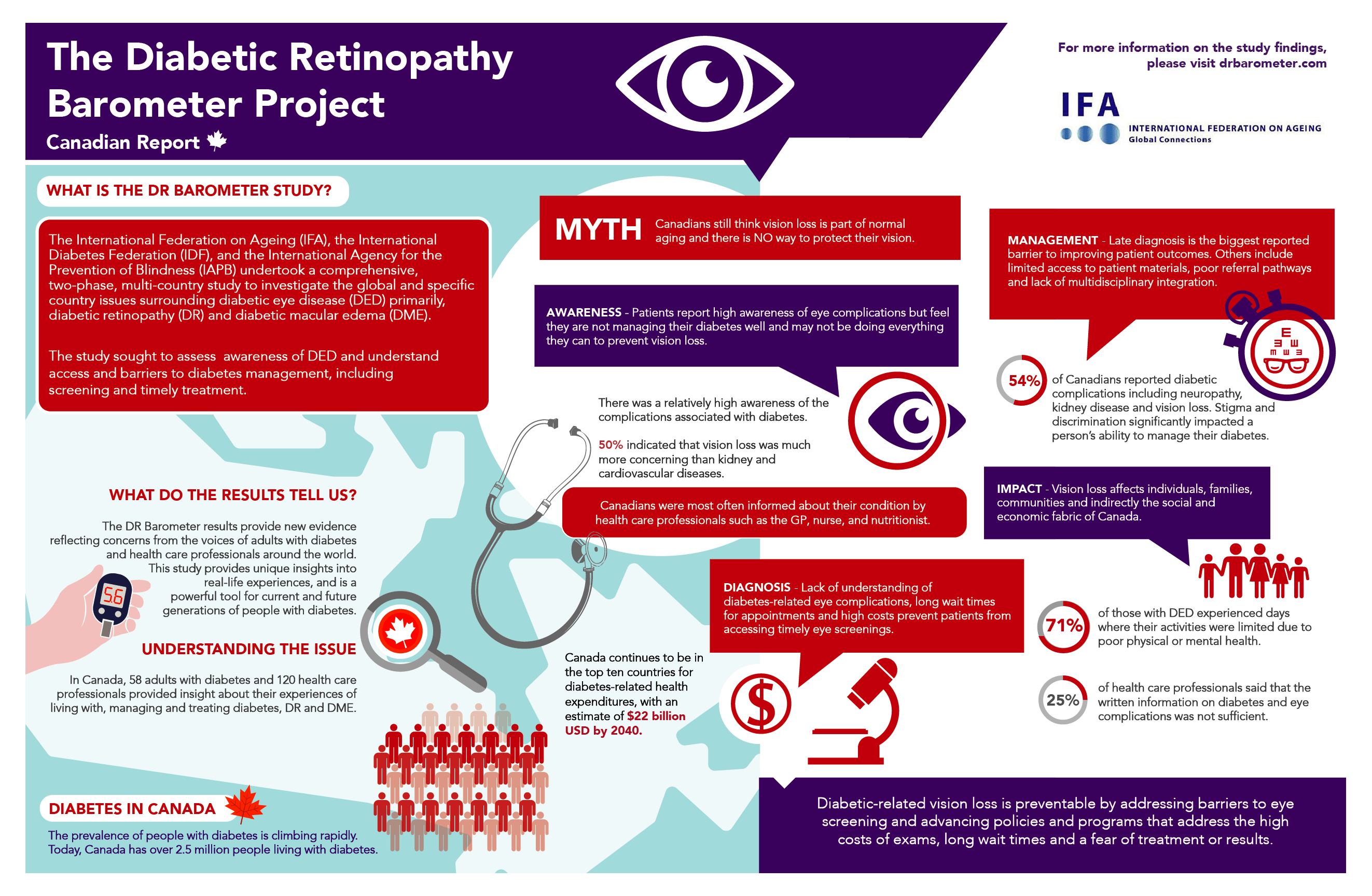 Vision Health Month provides an invaluable opportunity to further reinforce the DR Barometer's commitment to improving the vision health outcomes for adults living with diabetes and add to the national discussion regarding vision loss by shedding light on the leading cause of preventable blindness.